MAINTENANCE HOLE GEL INSERTS
Eliminate odors from underground gases.
Leave Odors Underground
The Ecosorb® Maintenance Hole Gel Insert is designed to scrub odor from industrial sewer gases  — manholes and storm drains with odor issues. The perforated insert holds Ecosorb Gel odor neutralizer, allowing escaping gas to pass through, and leaving an odor-free air stream.
The Ecosorb Maintenance Hole Gel Insert is designed to hold one gallon of Ecosorb Gel. The average life of the Ecosorb Gel is 3-5 weeks, but differs based on the amount of airflow through each manhole application.* Inserts are available in two standard sizes and are available in common sizes upon request.
* Extreme cases could cause variations and modifications may be necessary.
Available in all common sizes between 20″ and 36″

Black polyethylene (0.125″ – 0.150″ thick depending on size)

Handle strap included

All inserts include a foam gasket edge seal

Inserts are pre-drilled with 61 0r 93 (1/4″) holes depending on size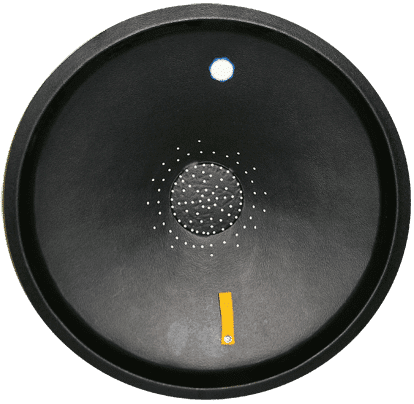 The continuous release formulation of Ecosorb Gel is designed to eliminate odor in the air. As the Gel evaporates, it works around the clock to provide constant, 24/7 odor control. It is especially effective for combating persistent odor problems that may not be avoidable or correctable.
With your initial purchase of 55-gallons or more of Ecosorb Gel, OMI will provide two pre-drilled and fitted insert units at no cost. Additional units are available for sale from OMI or provided by the customer.
Set it and forget it  — gel fights odors as it evaporates

Inserts allow for continuous airflow

Around-the-clock odor elimination